PA State Historic Preservation Office Open House
November 7, 2016 @ 3:30 pm

-

7:30 pm

Free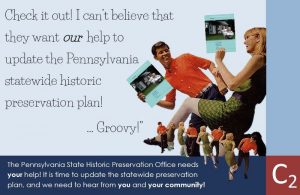 Sometimes, nothing beats the personal connection
that comes with talking to someone face-to-face. 
That's why we'd like to invite you to join us at one of the five Open Houses the Pennsylvania State Historic Preservation Office (PA SHPO) and Preservation Pennsylvania are hosting this November to learn about and be part of the effort to develop Pennsylvania's next statewide historic preservation plan.
We will be visiting Scranton, Bethlehem, Philadelphia, Pittsburgh, and Johnstown.
Please drop by any Open House between the hours of 3:30 and 7:30 and, if you'd like, stay for one of the scheduled one-hour discussions, led by Preservation Pennsylvania's Executive Director Mindy Crawford, at 4:30 or 6:30.
You can expect to meet PA SHPO staff, Preservation Pennsylvania's Mindy Crawford, mingle with some of our local preservation partners, share your thoughts and opinions, and leave knowing you're part of something bigger.
The Open Houses are FREE and open to anyone interested in attending.  We're even giving away FREE copies of Pennsylvania Architecture: The Historic American Buildings Survey, 1933-1990 to the first 25 people to register for each Open House!
If you think you'd like to join us for one of the moderated discussions, please register by clicking the button below for one or more of the Open Houses.  Registration isn't required and we're asking for our planning purposes only.  If you didn't register, or plan to bring along colleagues, friends, and neighbors who haven't registered, no worries.  All are welcome!
REGISTER NOW
November 3
–
Scranton
Pennsylvania Anthracite Heritage Museum
McDade Park, Unit #3, 22 Bald Mountain Road, Scranton, PA  18504
www.anthracitemuseum.org
November 7 – Bethlehem
Fowler Family Southside Center
511 E. Third Street, Bethlehem, PA 18015
https://www.northampton.edu/about-ncc/campus-locations/fowler-family-southside-center.htm
November 17 – Philadelphia
Arch Street Meeting House
320 Arch St, Philadelphia, PA 19106
www.archstreetmeetinghouse.org
November 29 – Pittsburgh
Senator John Heinz History Center
1212 Smallman Street, Pittsburgh, PA 15222
www.heinzhistorycenter.org
November 30 – Johnstown
Heritage Discovery Center
201 6th Ave.  Johnstown, PA  15906
www.jaha.org